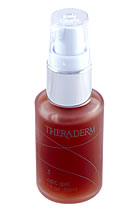 The third step of the THERADERM Skin Renewal
System is the OPC Reparative Gel. An
antioxidant more effective than Vitamin C as
a free radical scavenger, the OPC is a remarkable
development in reparative technology.
The release of old, dry skin cells stimulates new cell
growth in the skin basal layers. These new cells are
more round, elastic (pliable), healthy, and youthful.

The final step of the skin renewal system is the
application of an enriched or gentle moisturiser to
restore lipid effect.

Enriched Facial Moisturiser contains the highest
grade of natural cosmetic lanolin oil from sheep's
wool, but contains no mineral or vegetable oils
(these cannot be absorbed into the skin).
Lanolin works synergistically with dimethicone
to boost penetration of the lactic acid and the OPC.
This effect enhances results without the irritation
of a stronger alpha hydroxy acid formula. Lanolin
quickly absorbs into the skin's basal layers for
optimal results, leaving a silky luxurious feel to the
skin.