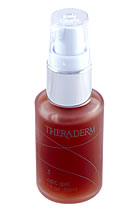 The third step of the THERADERM Skin Renewal
System is the OPC Reparative Gel. An
antioxidant more effective than Vitamin C as
a free radical scavenger, the OPC is a remarkable
development in reparative technology.

The release of old, dry skin cells stimulates new cell
growth in the skin basal layers. These new cells are
more round, elastic (pliable), healthy, and youthful.